NOW!  Do it!
We all like a good Knock Off, right?  Well this website is the brain child of
And she is FABULOUS!
She is also the guru behind: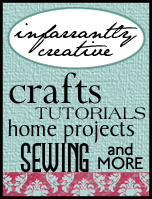 and is involved with
Such fabulous websites, full of inspiration, ideas and so, so, much more!
If you have never visited these site....please do so!  You will NOT regret it!
Please stop by and give Beckie some LOVE!
Thanks Beckie for featuring me!